So Im not sure how I wanted to start this post? To make it clear this is not about comparing one UTV brands stock seatbelts vs another. Or one brand or style vs another. It's about making sure you're using the best safety equipment you can, be it stock or aftermarket.
So yesterday a friend of mine was in a UTV accident. He is in his 70's and he & his wife are traveling with the 5th wheel and visiting family in northern NV. A nephew got a new UTV and they had been going out for some rides. At about 25-30mph so not real fast, and this proves you don't need to be going fast, they drove right into a storm washout. It was 25-0 in an instant.
My friend was in the passenger seat with the nephew driving, and in the impact his chest hit the grab bar breaking his sternum. He had to be put in an ambulance and taken to the hospital. Fortunately it looks like only his sternum was broke and he has no other injuries.
The seatbelts were stock 4 point style where the two shoulder straps are retractable like in your passenger car. Due to this it caused his sternum to hit the grab bar. This tells me he either came out of the shoulder belts, or the belts did not lock up or did not lock quick enough and his body was thrown forward 12-18 inch if not more. That's insane, to become that loose in a seat. And to clarify I don't know how he was wearing the belts, except he was wearing all 4 points when they crashed.
Car in the washout.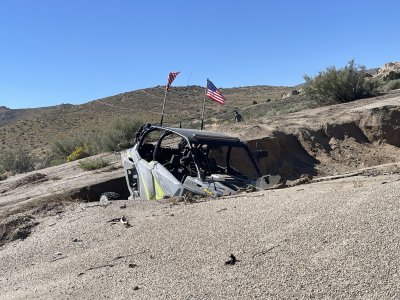 Look at the distance you have to move to hit your chest against the grab bar, which is now bent. He probably moved 12-18 inches.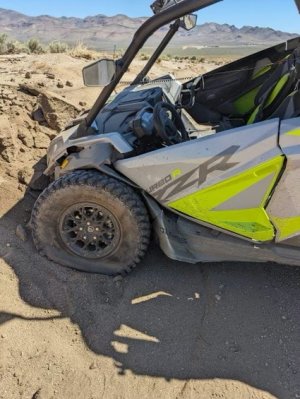 This is just a picture I found online to show the style of seatbelts that were in this car. As you can see there is no shoulder adjustment as they are retractable. There is also a rubber strap to hold the two belts together.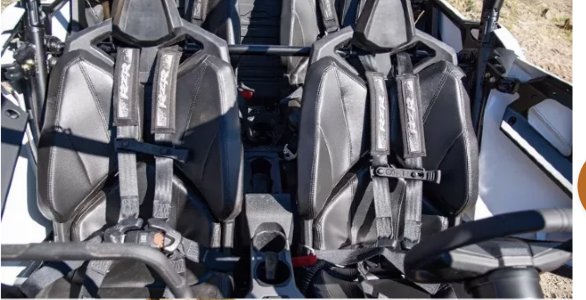 Bottom line I don't care if your belts are stock or aftermarket. Your seatbelts need to work right. They need to be installed properly and worn properly.
The Speed UTV comes with a true race style belt. They will not be SFI certified, so while they might be better than the other stock UTV belts, there are still better available. Also the other manufacturers stock belts are self adjusting, where the Speed belts you will have to manually adjust each belt strap separately and each time someone sits in that seat.
Please, please if you don't know how to adjust your belts, because you've never had a traditional 5 point seatbelt. Ask someone who knows to show you how. Dont not ask because you feel dumb. You would not believe how many I know that did not understand how the crotch strap was to work. You will feel worse if injured or if you injure someone else. It hurts less to learn.
I personally like and have always used a 3 inch wide harness in my cars. There is also a brand and very particular style belt I like & use. So I'm going to try the Speed 2 inch wide CamLock belts. But if I don't feel like they are right for me, and if I don't feel comfortable they will come out, and what I like & know will go in.
Good news is my friend is going to be ok. At his age, it's probably going to be a slower recovery as you just heal slower. I don't know how long he's going to be in the hospital? Assume he will be out soon, but I'm pretty sure they will be stuck in NV until he's ready & able to drive the truck & 5th wheel home. Plus the rest of the trip is done.